I have a new addiction; Pinterest. Who would have thought, that pinning various images that appeal to you onto boards, would be so god damn satisfying? Well I for one have spent hours (and hours) in recent weeks scrolling through my feed, gazing (procrastinating) and pining various pictures, from crafty pony tails, beautiful makeup, thoughtful sayings, white interiors, dream workspaces, to pineapples and I can't get enough of it. And having now pinned over 3,000 pins, I thought it was about time I started sharing a few of them with you all.
1. Who knew you could do so much with your hair?! Pinterest has taught me how to transform a dull pony tail into something much more appealing, yet practical. I have since bought some clear hairbands and have been practicing. Watch this space!
2. I'm all about the winged liner. But it has been a while since I have softened it up with the use of a pencil liner. And for the second time I have lost my favourite brown eye pencil from MAC in 'Coffee'. Maybe it's time (yet again) to repurchase...
3. Beyonce wasn't built in a day! Ha. Whoever thought of this must have a good sense of humour. After having spied this top, I have found myself chanting this to myself (and my friends to their delight) at my boot camp sessions and it has been working well and now I must buy it. Just for giggles!
4. These ombre grey nails from Essie inspired me to have a rummage in my nail polish box and dig out Essie's 'Cocktail Bling' a lovely pale grey and since its rediscovery, it's been permanently painted on my nails. And with the release of 50 Shades Of Grey this weekend, I feel this colour is more than appropriate. Do you like grey nails?
5. I have never been a watch kinda girl. But in recent months my need and desire to invest in a watch has grown. And the Daniel Wellington watches are classic and timeless (see what I did there?). Come payday I may just treat myself. Oh and the checkered shirt is rather nice too!
Are you a Pinterest addict?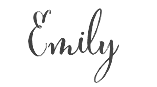 Bloglovin' | Twitter | Instagram | Facebook | Pinterest