Last month I shared with you all my new found love, Pinterest. And this month has been no different and with Spring well underway and having recently emptied my wardrobe, I have been going crazy pinning several spring outfit, polishes and makeup looks. So lets spring right into it...
1. There is something about this skirt that I simply love. From the the sheer panels at the bottom, to the length. And since spying this skirt, I hopped online and purchased a skirt from New Look of a similar style and although it isn't something I would usually go for, I really like it and felt like a princess wearing it!
2. Forget her brows and the fact she is stunning, this pin is all about the orange lips. And it's safe to say, when the sunshine returns ,so do colourful lipsticks and this year I will be rocking an orange lip. I'm still on the hunt for the perfect shade, so if you have any recommendations, feel free to share them with me.
3. Since January I have worn nothing but Essie's 'Cocktail Bling' polish on my nails and after coming across Muggins from Butter London via Pinerest, I couldn't help myself and have since been online and purchased it. Review to follow.
4. Stripes. I'm feeling the need to add a little bit of Parisian style to my current wardrobe and I have been pinning stripes left right and centre onto my 'Wardrobe Wants' board. I have scanned the shops and come across a very soft striped number from Warehouse, which is currently on my wish list, amongst other stripy numbers.
What pins have you been loving recently?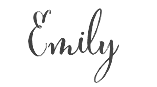 Bloglovin' | Twitter | Instagram | Facebook | Pinterest