Gone are the days of checking my emails first thing in the morning and the last thing at night, I now scour Pinterest instead, pinning away in a frenzy, organising pins into my somewhat beautifully arranged boards. It's addictive. And today my blogger offering is the 3rd instalment of my Pins I Love series...
1. Laced up heels are certainly the IT shoe of the season, being a favourite amongst celebrities such as Alexa Chung, Kylie Jenner, Kim Kardashian and Gwen Stafani. I have pinned many pairs of laced up heels, but I particularly like the sophistication of this pair and although I can't afford the Olivia Palermo Cut-Out Leather Sandals priced at £495, I checked out the high street offering and was induced by the lattice work of the Zara High Heeled Wrap Around Interlaced Sandals which are priced at a very reasonable £19.99. If I didn't say I'm head over heels with this pair, I would be lying!
2. Why do I love this pin? Well, simply because these pink roses are beautiful and so effortlessly displayed. And let's not forget that it has been proven that the presence of flowers triggers happy emotions. So, at the weekend I bought myself a bunch of tulips and they oddly give me a feeling of satisfaction every time I enter my room - whether that's because I'm finally using my vase rather than hiding it empty behind my curtain, or because flowers generally make me happy I'll never know! But as Oscar Wilde so eloquently put it, 'With freedom, books, flowers and the moon, who could not be happy?'
3. I have recently had my hair snipped and as a result, my 3-year love affair with dip dye is no more. I had considered running into Boots and picking up another kit, but I fancy a change. Balayage highlights give a more natural sun-kissed look to the hair, a little softer than the likes of dip dye and have been something I've been pondering over for a few months now. Shall I? Shan't I?
4. Soft makeup has been my go-to in recent weeks and this makeup look is a classic take on spring/summer beauty; light foundation, highlighted cheekbones, soft neutral eye and a nude lipstick.
5. Admittedly I'm envious of her tan. Who wouldn't be? But really I'm all over the striped dress. After years of avoiding striped clothing over the fear of it making me appear larger than I really am, I have been filling my wardrobe and with nautical numbers and recently stumbled upon the Zara Basic Sleeveless Dress which cost just £12.99 and I couldn't resist. You can check out my 'Line 'Em Up' Pinterest board here.
Are you on Pinterest? Leave your links below.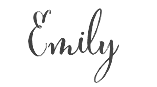 Bloglovin' | Twitter | Instagram | Facebook | Pinterest