#TuesdayTakeover has returned and this week I introduce you to the lovely Amanda from Dreaming Pretty. Today Amanda shares her go to products to achieve a healthy feminine complexion. Her choice of products has me a little envious and the Dior Glow Maximiser may have just been added to my beauty wish list!
So first of all let me introduce myself, I'm Amanda from

Dreaming Pretty

. The lovely Emily asked me to do a guest post for her blog so of course I jumped at the chance as I absolutely love her blog. Emily pretty much gave me free reign on what to right for this post so of course I wanted to write about beauty...surprise surprise. At the moment I'm really loving wearing more neutral tones which all just help to give a glowing healthy complexion that looks super feminine and pretty.
When it comes to the weekend I like to go quite simple, especially on a Sunday, so I felt that I wanted to share the products that I have been using for the past few weeks to help me achieve a relaxed but feminine Sunday face.
Firstly, it's the base. As a primer I use the Dior Glow Maximiser and I also use this to highlight my cheek bones and brow bones. This is just like glow in a bottle, it packs a super highlighting punch and is definitely not for the faint hearted. For my foundation I have been using the Burberry Fresh Glow Foundation, this is a really light foundation and gives a light to medium coverage. It gives a lovely dewy finish so probably isn't the best for oily skin types but for more dry to normal skin then it's a great option.
Then I use the Burberry Light Glow Natural Blush in shade Earthy Blush as a contour powder. This is just a beautiful shade and when used to just softly contour it gives the prettiest natural effect. For my blush I have been loving the Bourjois Aqua Blush in shade Inge-Nude. It's a gel fluid and is so easy and effortless to apply. It gives the perfect amount of colour to the cheeks.
I always like to have a little something on my eyes so when I'm going for a relaxed Sunday feeling I tend to head for this Illamasqua Vintage Metallix Cream Shadow in shade Courtier. It's a shimmery beige/cream shade that is super pretty all over the lid and then I just finish off the eyes with lashings of the 17 Va Va Voom mascara for a big voluminous finish. For the brows I just brush a little of the Benefit Gimme Brow through them to add a little definition. And then to finish the look off I have been loving the Rimmel Kate Moss Nude Collection Lipstick in shade 45. This is a rosey nude shade and is very similar to MAC Peach Blossom, it's just a lovely nude pink shade that finishes the look off perfectly.
So there you have it, my current Sunday go to face. I'd love to hear your thoughts on any of the above products and also if you have any recommendations.
Thank you Emily for having me.
A big Thank you Amanda for taking part in the #TuesdayTakeover x
Make sure you head over to Amanda's blog and say hello!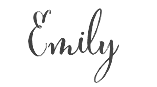 Bloglovin' | Twitter | Instagram | Facebook | Pinterest