#TuesdayTakover has become a much loved feature here on BBA and for good reason. And this week is no exception as I introduce you to Jasmine from Jasmine Harding Makeup, a fellow British Beauty Addict and marketing student. So grab a cuppa ladies, as Jasmine talks us through her go to products for a fresh & glowy holiday makeup look…
Fresh pink cheeks, highlighted cheek bones, glossy lips and wet metallic eyes, oh how I love summer beauty. There's nothing better than being on holiday, showering off all the layers of sun cream you've slapped on in the day, smothering your self in after sun and whilst everything is soaking in and your hair is drying, sitting in front of a big mirror, playing with your makeup and choosing the products that will make up your face for the evening. Makeup is a big no no for me on holiday in the day time, if we headed into town for breakfast then I would just slip my hair back add some lip balm and walk out the door but in the evenings, I do like to give myself a pamper and use some of my favourite products. All of my makeup looks consist of a load of highlighter but I do things a little different wit my holiday makeup looks as I want them to look beachy and bright with vibrant colours and golden lids. I wore this look most evenings on holiday when we went out for dinner and whilst my face is still tanned and has that holiday glow, I've been wearing it ever since and I must say, it's a new favourite.
BASE
I tend to rule out any kind of foundation, BB cream, tinted moisturiser, CC cream on holiday and keep my skin free and give it a chance to breathe whilst I'm away from home. Having said this, I do like to use a touch of concealer, but first, lets prep that canvas. Hydrating is key on holiday so a good moisturiser pre makeup is always handy, This Works SPF 30 was my go to on holiday which I then followed up with a hydrating primer such as
NARS Multi Protect
or
Lancome Hydra Glow
, depending on how my skin felt. Once moisture levels are restored and everything is looking smooth, although I skip my base, I do like to go in with some concealer to correct any dark circles and this holiday,
NARS Radiant Creamy Concealer
as been the favourite as it's light consistency blends beautifully under the eyes whilst adding a hint of coverage where needed and keeping everything concealed for hours. If you don't like going completely base free on holiday then a good option for adding a touch of courage but still looking incredibly healthy and fresh is the
NARS Pure Radiance Tinted Moistursier,
a favourite of mine with a great shade range and finish.
To bronze and highlight then I used my beloved Kevyn Aucoin Creamy Glow Duo as I'm all for cream products when in the heat as they tend to last a lot longer on my skin so I swiped some bronzer under the cheek bones and blended it all in and dabbed the highlight basically all over my face to add some glow. To brighten my cheeks and give them some life, I have been loving my newest addition, the Clinique Chubby Stick Cheeks in Robust Rhubarb, a lovely soft corally pink shade that is perfect for holiday and paired with bronzer, you have the ultimate holiday skin. If I ever reached for a powder blush then NARS Deep Throat was the one for it's long lasting, light formula and of course, it's soft highlighting pink colour. To finish off my base, I still thought I could have more of a glow then I would rub together some Nourish Face Illuminator in my fingers and pat it onto the high points of my face, this stuff adds some serious glow girls.
EYES
Other than my
NARS Dual Intensity Palette
which I did wear a few times on holiday, my go to product was my
YSL Full Metal Shadow
in 04 for it's light, cooling and hydrating consistency that upholds a metallic, wet look, glossy finish which makes eyes pop and brings them to life with a sparkle here and there. Post eye prime with NARS, I smear this straight onto the lid and blend wit my fingers until I've reached the desired pigmentation. I avoid using mascara on holiday as I find it never lasts very well on me and I just prefer the whole bare lash look but I do add some definition to my brows with my
Eyeko Brow Gel
which is just the best for natural looking brows.
LIPS
Holiday lips for me are all about light thick, intense and moisturising balms that restore lips and prevent dryness or peeling lips so I had a number of lip goodies that I wore most evenings this year. First up, the budget friendly
Nivea Lip Balm in Macadamia
which I love, creamy, buttery and smooth, adding a neutral colour. On the high end scale of the spectrumm By Terry seriously rock in the lip balm department, their famous
Baume De Rose
is a favourite of mine and for an even more pretty lip, then the tinted versions are ideal. I swore by Rosy Baby this holiday as it adds colour and hydration in one simple step. My
Anthropologie Lip Treatment
was a well loved product also. As you can tell, I end up chucking every lip product / balm in my travel bag before leaving as I always spot something thats ben left out of my makeup bag.
What is your go to holiday makeup look?
A huge thank you to the beautiful Emily for letting me feature in this weeks Tuesday
Takeover, I am delighted to have been featured on your amazing blog!
A big Thank you Jasmine for taking part in the #TuesdayTakeover x
Make sure you head over to Jasmine's blog and say hello!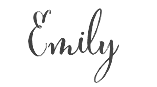 Bloglovin' | Twitter | Instagram | Facebook | Pinterest